Summary in English
SELMA is a research project aiming to implement and evaluate a program that strengthens Swedish patients with stroke and their families' ability to Self-Manage (SELMA). By using the five-stage approach of Bridges self-management, an acknowledged and approved program for educating staff working with patients with long-term health conditions, we want to contribute to a better stroke-care in Sweden.
SELMA is a multiple case study and the methods to be used are observations, interviews, and self-reporting questionnaires.
What has been done?
The project started in 2020 and includes several parts. As a start we interviewed patients with stroke to find out more about their appreciation of self-management.
The education program was implemented in one stroke ward unit in Helsingborg in 2021-22. Data was collected among patients, family and staff before and after the intervention. During the education program the staff were given tools to tailor self-management support, focus on the individual and his/hers needs, and to strengthen self-management skills such as goal-setting, action planning and decision making. Our researchers with experience of person-centered care and implementation are studying the process and how the intervention influenced the patient's ability to self-manage and the staff's daily work.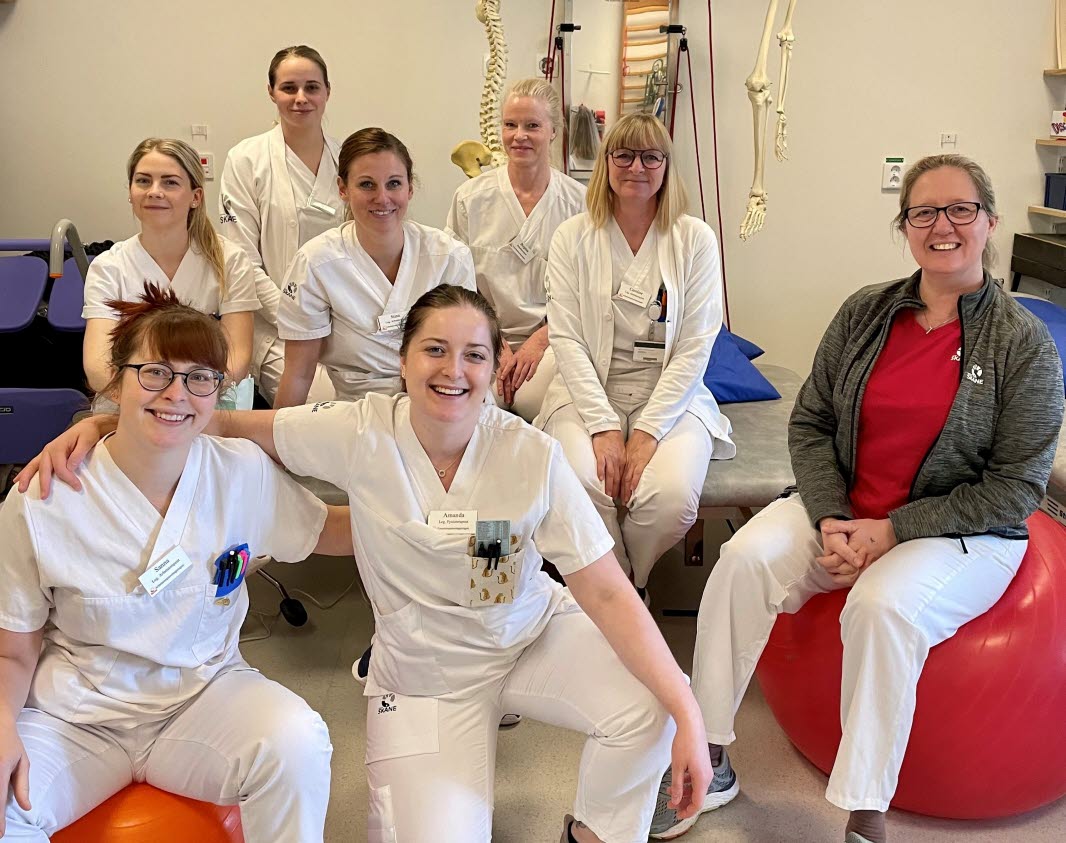 The program and the measuring process will be repeated in the rehabilitation ward in Hässleholm hospital. The staff started the education program in October 2022.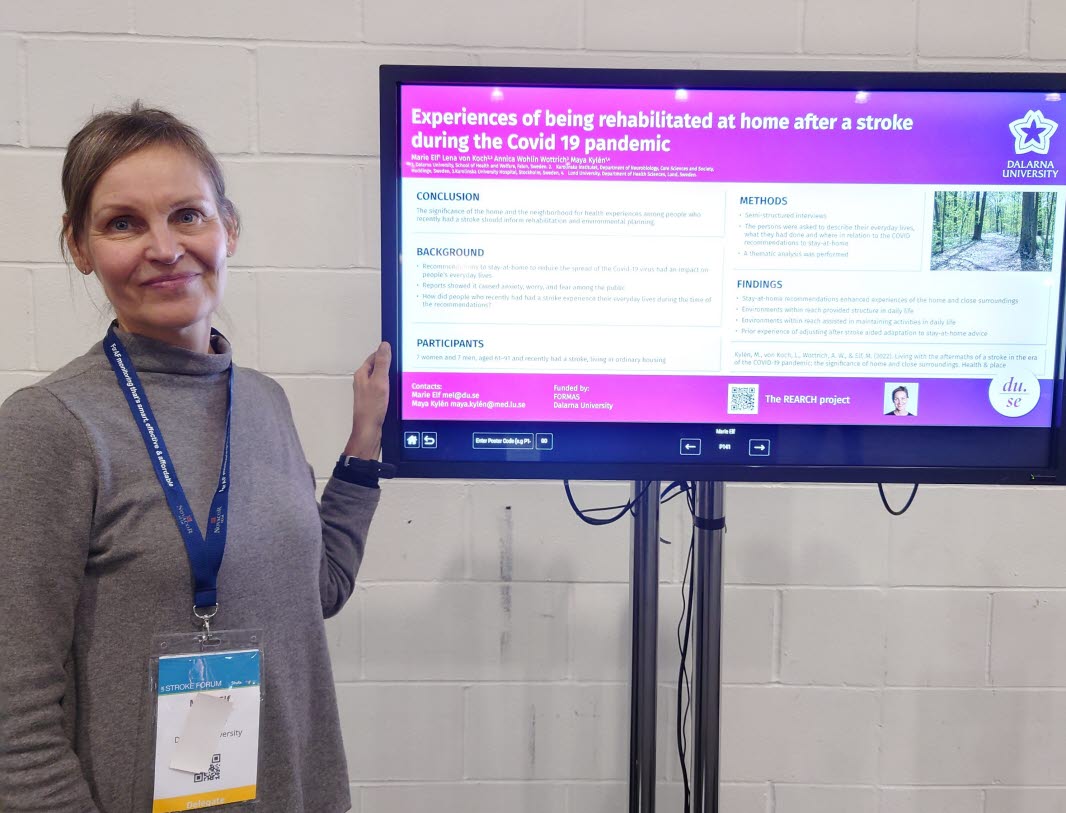 The PhD student Erika Klockar has presented posters about her study 'Self-management from the perspective of persons with stroke - An interview study' at the Stroke team congress in Örebro in September as well as at the UK Stroke Forum 2022 in Liverpool in November.
We are happy to have good relations with the local Stroke organizations, and met with them in December, over a lovely Christmas lunch.
In March 2023 parts of the SELMA team was represented at the European Life After Stroke Forum in Barcelona. Professors Fiona Jones and Marie Elf participated in a symposium and PhD student Erika Klockar presented the poster about her study.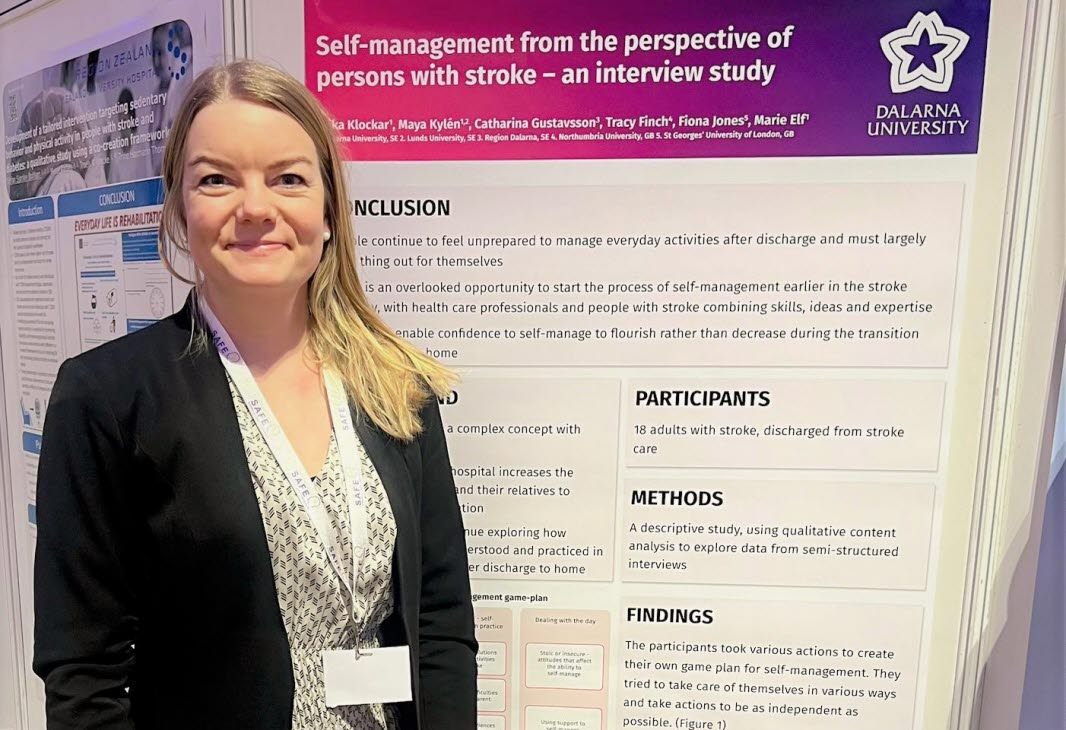 In April 2023 PhD student Erika Klockar's article "Self-management from the perspective of people with stroke – An interview study" was published in the journal Patient Education and Counseling.
We have also had the pleasure of having another meeting with the SELMA reference group, which, as usual, meant many interesting and valuable discussions!
In June 2023, Marie Elf participated in a Strokeförbundet conference, where she gave a presentation: "From needs to solutions", focusing on person centered support after stroke. Find the presentation here (in Swedish): Internt - Strokeförbundet (strokeforbundet.se).
Autumn 2023: The staff at both the rehabilitation wards in Helsingborg and in Hässleholm have now finished the Bridges Self-management program. All post intervention data has now been collected.
In October 2023 we also hosted another reference group meeting, which meant interesting discussions and useful insights.
What is going on?
We are now in the process of analyzing collected data.
We are also working on a review study on factors that are important when making changes to enhance self-management in persons who have suffered a stroke and their families. We have translated and validated the Stroke Self-efficacy Scale (SSEQ) and we are aiming for publication within short.
In addition, the PhD student Linnea McCarthy will investigate the meaning of social support in self-management after stroke and explore the role of significant others in self-management.
We are very happy that we have had good meetings with our Reference group, and hope to continue having good collaboration and discussions in the future!
We are planning to visit the different local stroke organisations as well as the local stroke units to discuss our work together.
Research Group Members
The SELMA-project is a collaboration between researchers in Sweden and Great Britain lead by Professor Marie Elf at Högskolan Dalarna, Sweden. The research group includes Professor Fiona Jones, St. Georges University of London and founder of Bridges self-management, professor Tracey Finch, Northumbria University, Great Britain. From Högskolan Dalarna are Professor Lars Wallin, postdoc Maya Kylén and doctoral students Erika Klockar and Linnea McCarthy. Further, Catharina Gustavsson, docent and associate Professor at Högskolan Dalarna and Region Dalarna, senior professor Lena von Koch, Karolinska institutet and Charlotte Ytterberg, docent at Karolinska Institutet, Sweden, complete the group.
Finanicier
The main financier of the SELMA-project is Forte.