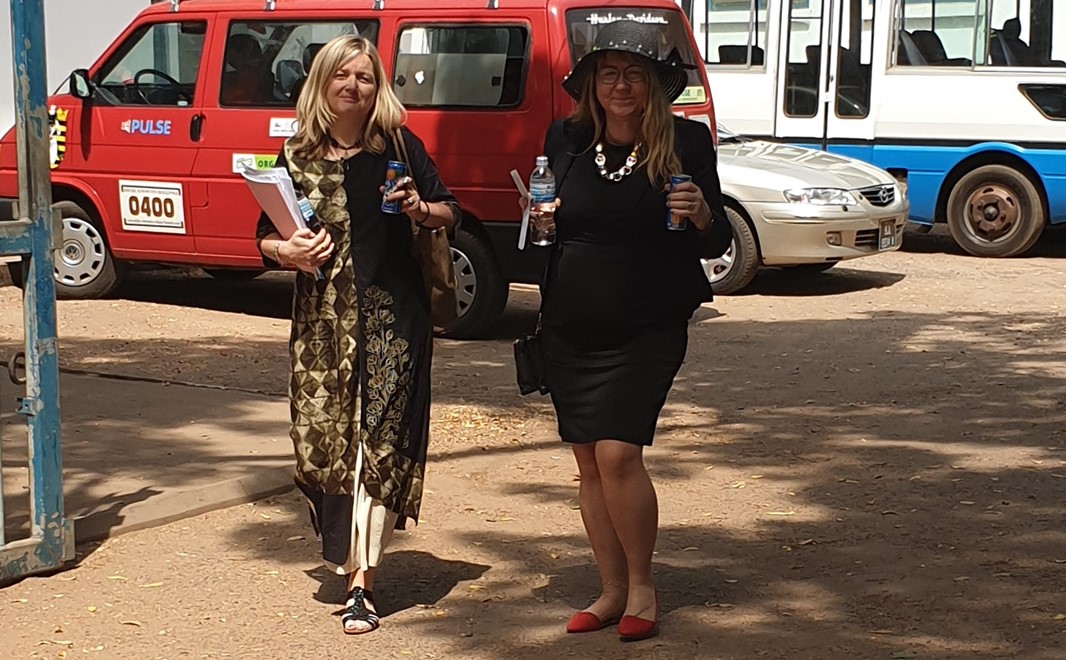 The plan had been to have physical exchanges, but then the pandemic arrived and with that came the need for innovative thinking.
- After a number of years of global collaboration with, for example, Somalia and Bangladesh, we have learnt to be flexible and are able to adapt, states Kerstin Erlandsson, Docent and Senior Lecturer in Sexual, Reproductive and Perinatal Health at Dalarna University.
Of course they decided that the exchange would continue – it would just be online. As such, an online workshop was organised that ran over several days. This in itself, however, presented challenges because there were different time zones to consider and on occasion poor internet connection to contend with.
- On the first day of our workshop, Gambia experienced a nationwide internet outage. However, we had prepared pre-recorded material as well – that was a lifesaver, states Ulrika Byrskog, Senior Lecturer in Sexual, Reproductive and Perinatal Health at Dalarna University.
After day one, the connection was up again and the exchange could continue online. There were about 30 attendees from Sweden and Gambia, as well as other external partners from Somalia and Bangladesh.
- We came together to share our experiences from our various contexts and worked on our own assignments. This pilot-trial with an interdisciplinary workshop over four time zones was very much appreciated, and we realised we would very much like to repeat the experience, states Ulrika.
Students Central During the Pandemic
During the online exchange, there was discussion on one specific challenge facing all the countries: how to support students in their learning during the pandemic? The lack of midwives and nurses is a worldwide issue, and the fact that the pandemic has in many ways put a hold on clinical education is a very real problem.
- We discussed several ways to adapt education so that it could be delivered online without affecting quality. For example, the importance of flexibility in learning, of challenge-driven learning, of students at centre instead of the teacher or the supervisor, and in such a way of together finding solutions using online meetings and new technology, explains Kerstin, who is also Programme Coordinator of the Midwifery Programme and the Master's Programme in Global Sexual and Reproductive Health at Dalarna University.
Reciprocal Learning Improves Education
Such exchanges increase the quality of midwifery programmes, both in Gambia and here at Dalarna University.
- We gain perspectives in our teaching through long-term collaboration with students and teachers in Gambia and Dalarna, explains Ulrika.
- Once the pandemic is over, all of us – teachers and students, undergraduate and graduate – are looking forward to meeting the students and our teaching colleagues from Gambia in the corridors of Dalarna University. We are also looking forward to ourselves finding out first hand about the education and healthcare system in Gambia. We hope that this exchange will be long-term – at least eight years. It takes time to build up a partnership, and we have had a successful start with our online exchange right in the midst of a pandemic, says Kerstin.
Facts
At the 2019 World Health Assembly in Geneva, a government delegation from Gambia requested support from the Swedish Government for midwifery competence in Gambia. The request came to Dalarna University, and that same year in the autumn a representative from the Gambian Government paid a visit to Dalarna University. In February 2020, Ulrika Byrskog, Kerstin Erlandsson and Lillemor Vallin Eckhart were commissioned by Gambia's Minstry of Health and Dalarna University to closely chart the midwifery education offered by five universities in Gambia's. One first step in the future collaboration was a Linnaeus-Palme exchange between Dalarna University and the School of Nursing and Midwifery, The Gambia College.
Dalarna University Programmes
Master's Programme in Global Sexual and Reproductive Health, in English
Barnmorskeprogrammet, in Swedish