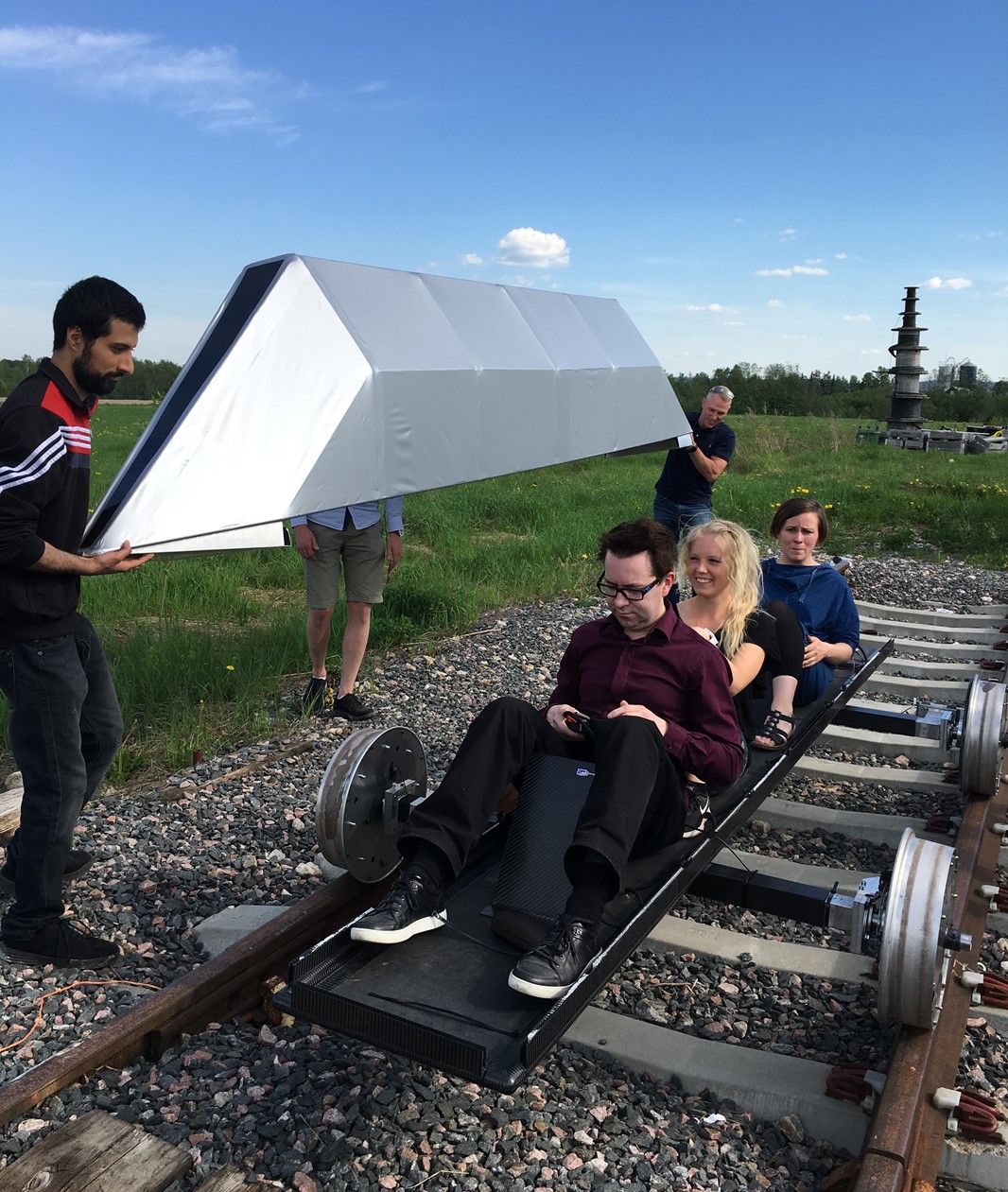 "There were some technical problems ahead of the competition, but they were resolved in good time," states Susanna Ottosson, one of the engineering students.
On Friday, May 18, the first test of Eximus 3 was carried out, after which there was a test run on a stretch of rail outside Borlänge. Involved in the testing were engineering students and teachers, along with representatives from SSAB. Any problems were rectified, and Eximus was ready to compete.
World Record
The Delsbo Electric competition involves a vehicle driving along a 3.36 km stretch using as little fuel as possible. In 2016, Eximus 1 won and in 2017, the winner was Eximus 2 - at the same time as it set a world record and is now listed in the Guiness Book of Records. This year's competition led to Högskolan Dalarna once again winning and securing a new world record.
Constructed by Engineering Students
Ten students from the programmes in Energy Engineering and Mechanical Engineering spent the autumn and spring working on Eximus 3. This they did alongside their studies.
"It takes a lof of time but is loads of fun. Dedication drives us, and the fact we have fun together," says Susanna Ottosson.
High-Quality Material
Eximus 3 is much lighter than its predecessors and is constructed from high-performance material. it weighs 80 kilogrammes and seats six people.
New this year was the fact that six pupils from the local high school Soltorgsgymnasiet have been involved. They are completing their high-school studies by being part of the Eximus project.
The compeition took place in Delsbo on Saturday, May 26.
Want to be part of the future Eximus?
You can study to be an engineer at Dalarna University: we offer programmes taught in Swedish and programmes taught in English.
Facts on Eximus
The Eximus project is financed by Teknikerjakten, the municipalities of Falun and Borlänge, and Region Dalarna. Sponsors of the project are Batteripoolen, Kvick Business, Momentum, ME Racing, SSAB, CTEK, JPC Composit, Cykelcentrum, Gleitmo, Lanitz Aviation and Allt i plast.