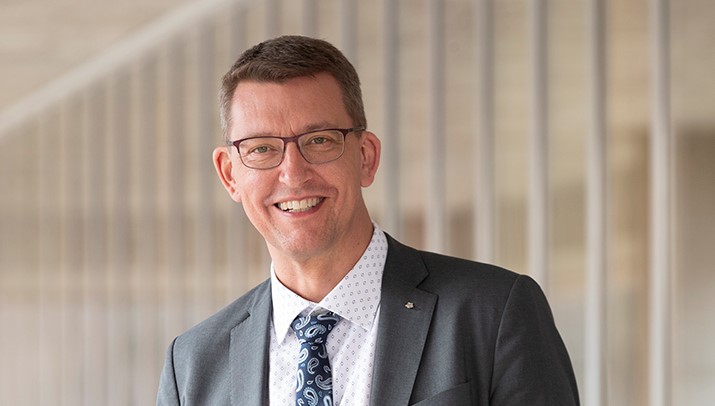 Before even being asked to apply for the position, Martin Norsell knew quite a bit about Dalarna University.
"The University has a great deal of knowledge when it comes to digitalisation and online learning - what's known as Next Generation Learning. My belief is that online instruction is the future. Next generation students won't accept a university education that is not in line with development, and in that area, Dalarna University is leading the way. This was one of the reasons I applied to the position as Vice-Chancellor," explains Martin Norsell.
Saying that, Martin Norsell does not believe that campus-based courses are on the way out and has no doubt about the importance of a living campus.
"Person-to-person meetings are important. A component in a course, for example its initial stage, can be held on campus and then move to be more online. Young people meet each other online in a completely different way than those of us who are a bit older. We talk about composites - two things that are better together than they are individually - a composite campus, where physical meetings and online meetings complement each other. And certain things can certainly not be accomplished online - labs, for example," says Martin.
In 2016, Dalarna University conducted a study that looked into the merging of the two campuses on one site. This debate did not escape the University's new Vice-Chancellor.
"The government made a decision on this, one that I do not intend to question. Clearly, there is a cost involved in having two campuses. However, there are also advantages. There appear to be differences in terms of culture between the two campuses, and certain things are no doubt better achieved in each respective place. But just think if we could channel the dedication that exists at the University towards a mutual goal: it could be really good. For me, each campus and each organisation are as important as each other and to ensure I am involved in both, I intend to begin my time here by spending at least one day each week in Borlänge."
In his previous role, Martin was also heavily involved with collaboration, something he would like to develop and work more with.
"Collaboration with businesses and organisations is both interesting and enjoyable, and it's always a pleasure when those from outside the academic world show an interest in the results. Keeping in mind the three fields in which Dalarna University offers post-doctoral studies, collaboration with business organisations in the region ought to increase both to achieve more and better research, and also to further enhance the quality of our courses."
Something that has made an impression on the university sector as well as on Martin is the fact that Dalarna University is the only university of four, in a pilot study, that has received approval for its quality system.
"This is impressive and demonstrates the importance of collaboration between the different elements within a university - students, the organisation, support services and not least the staff. We are only ever as strong as our weakest component."
Naturally, the significance of the student union is of great importance to Martin.
"At Dalarna University, students have a three-part role: they are "clients" of the University and also the product of the University; they are also our future colleagues.The student union has a great influence and should be involved in all decision-making, except for when it comes to decisions related to employment, of course. We gladly help the student union so that they can channel their influence in the right way and at the right level so that courses and programmes develop on an ongoing basis."
Dalarna University is now looking to the future and plans to give the new Vice-Chancellor the time required to meet people within the organisation and to listen to and understand the different perspectives on matters prior to any important decisions are made.
"Despite my background, I don't plan to have a military approach. I'm not that type," he concludes with a smile.
Martin Norsell: Facts
Academic Background: Civil Engineer in Aerospace Engineering. Studied one year at Massachusetts Institute of Technology in the USA. Doctoral studies at KTH Royal Institute of Technology in Sweden. Associate Professor at the National Defence University, Finland. Professor of Military Technology.
Residence: Täby, Sweden.
Family: Married to Madelené. Two children, Sofia 13 and Jakob 11.
Hobbies: At present, mostly fishing and photography.
Most proud of: My family. Professionally, the fact that despite circumstances resulting from the tragic news of a death, I had the task as Vice-Chancellor, Pro-Vice-Chancellor, and University Director of assuring degree-awarding powers at the Swedish Defence University, something the University had worked hard for over the course of five years. It was a critical time, but together we at the University were successful.