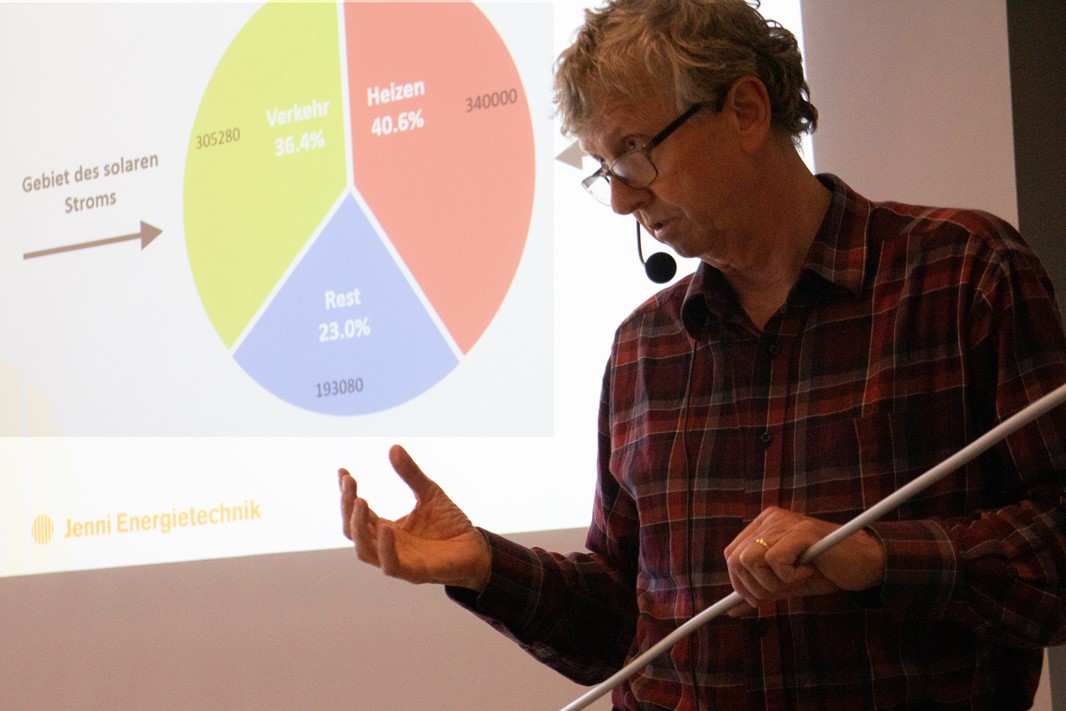 About twenty guests attended the University's EnergiCafé to listen to Josef Jenni, an engineer who has a wealth of experience when it comes to solar-heated buildings. For 30 years now he has been involved in constructions that take 100 percent of their heating energy from the sun since Josef discovered a way to store energy from summer to winter.
"This can be done by using large water tanks. These are filled with warm water during the summer and are placed centrally in the building. The heat they release is enough to keep the house warm over a period. Then the water itself inside the tanks is used," he explains.
Currently, Josef Jenni is biking from Switzerland to the North Cape; however, when asked by Klaus Lorenz, Lecturer in Energy Engineering, ahead of his trip if he could stop off here in Dalarna to give a lecture, there was no hesitation.
"It feels really good to be here. I am often giving talks on this subject in Germany and Switzerland, so it feels really good to come here to Sweden and share my experience."
Both Josef Jenni and Klaus Lorenz have, throughout their lives, worked hard in their goal towards more sustainable development. Their fundamental ambitions are very similar to what the media now describe as the Greta Thunberg effect. Josef and Klaus, however, go one step further than Greta by working with concrete changes. They themselves have taken leading roles in developing and installing a number of solar energy facilities.
"Josef Jenni is a true inspiration. He has gone so far when it comes to technological development. It's been a life-long dream to be able to store energy from summer to winter," states Klaus Lorenz.