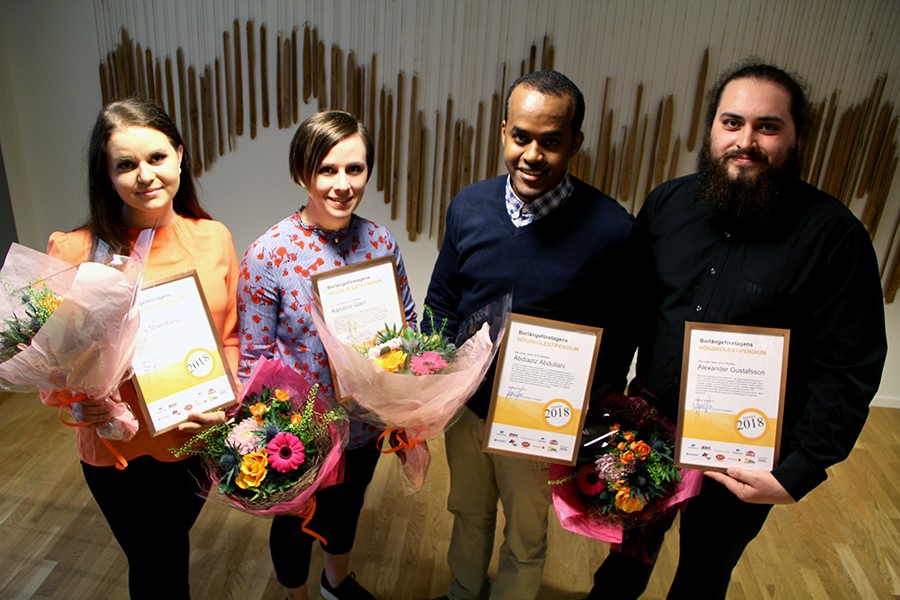 This year, four students have been selected: they are Linda Strandberg, Karolina Gilén, Alexander Gustafsson and Abdiaziz Abdullahi. Each will receive 20 000 kr from a total of ten companies that are active in Borlänge.
Linda Strandberg
Linda is studying construction engineering and in her free time is active within the world of equestrian sport as both trainer and team leader for children and young people. Her clear goal is to help increase self-confidence among children and young people, to teach them responsibility, and to develop their riding skills. Through her clear commitment, Linda serves as a positive role model.
Karolina Gilén
Karolina is studying energy in the engineering programme. She is already a qualified nurse and holds a bachelor of arts in health sciences. She helps fellow students with their studies and is also active as part of the Eximus project, the goal being to help lead Dalarna University towards its next world record. She serves as an ambassador for the University and a role model for other students.
Alexander Gustafsson
Alexander is taking the energy engineering programme and when not studying is actively involved with many clubs in Borlänge, both cultural and sporting. He serves as coach for a boys' basketball team, plays music, sings in a choir, and is member of the choir's board. Furthermore, Alexander holds an active function within the student union. At many levels, Alexander is an asset to both Borlänge and the region.
Abdiaziz Abdullahi
Abdiaziz is taking energy engineering and also helps young people with their studies and with finding their place within society. He offers help with homework twice a week, while also performing well in his own studies. He is a member of the board for Kulturhuset västra Borlänge and is active within a project that aims to reduce the educational gap that exists in Dalarna. This is a non-profit project that works with young people. These factors all demonstrate that Abdiaziz is both an important leader and a role model.
Background
The companies who are behind these scholarships are AB Borlänge Energi, AB Stora Tunabyggen, Bergkvist Svets & Mek AB, Fastighets AB Hushagen, Fiskarhedenvillan AB, Lindgrens fastigheter AB, Mockfjärds, Romme Alpin, Samhällsbyggnadsbolaget i Norden AB and Swedbank.
The grants are awarded in collaboration with the Student Union.
You can see the film about the grants (in Swedish).
The grants were awarded on April 20, 2018.