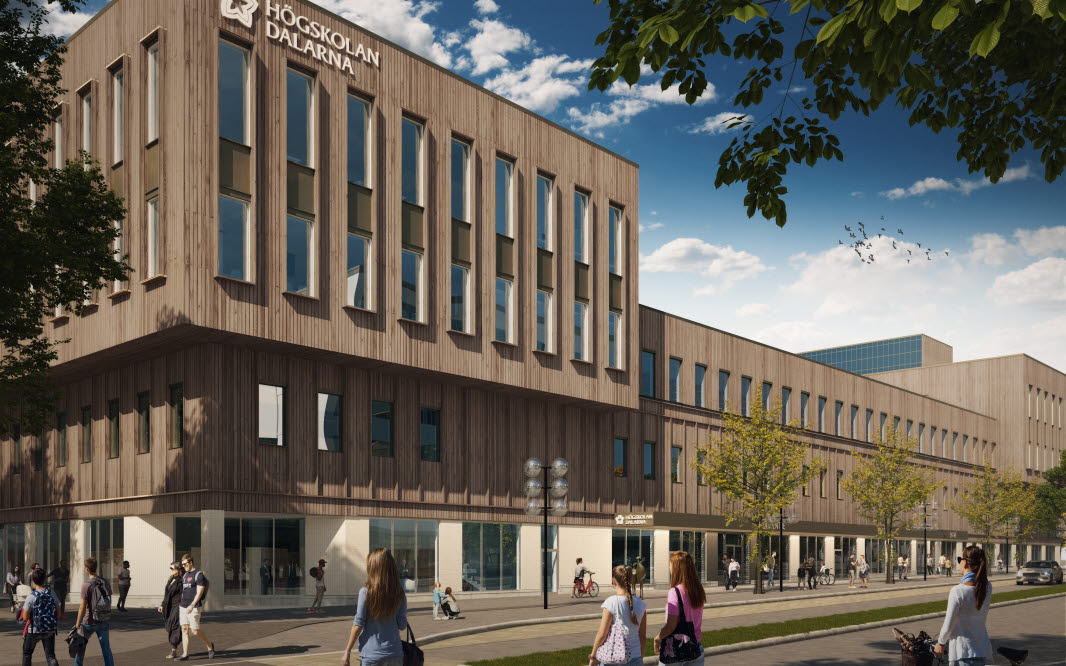 Modern, flexible, creative
The University's new campus in Borlänge is located in the very centre of town. With its modern, flexible and creative learning and and work environment for both students and staff alike, it aims both to meet the needs of the future and to create opportunities for growth and development for the University. Its central location will mean increased opportunity for external collaboration and outreach activities.
Sustainability and transparency have been important watchwords from the very outset in the design of the new campus building. Large parts of the facade, mainly on the side facing a park, will feature solar panels, while the terraces on the same side will be finished in wood. The glass expanses on the ground floor will open up the area and provide visibility to university activities. Notable is the fact that the building will have no obvious front or back; instead, it will have two "fronts", each unique in its own right.
Learning and Study Environments for Active Learning
Compared with the current campus, it is the study environment that will be notably different. The study areas in the new Campus Borlänge will be appealing, and the new campus as a whole will be flexible and adaptable in a completely new way so as to meet the needs of both today and the future. Classrooms and group rooms have been designed and will be equipped in such a way as to accommodate the next generation of learning with a focus on providing the necessary conditions for active learning and new educational approaches. Hybrid
teaching will be possible in all areas of the new campus, both the learning environments and the study environments.