Conference Program
NIC Conference 2023: Intercultural Communication with a Focus on Languages, Narratives and TranslationFull Program NIC 2023 (pdf)
Book of abstracts NIC2023 (pdf)
Fees and Registration (Closed)
The conference fee is 2800 SEK. Lunches, a reception, and a conference dinner will be offered.
The registration and payment form for the conference is now available at this address:
https://axacoair.se/go?89uSgm5P
Please note that presenters should register by Sunday, October 22. After this date, registration will be open for another week, until October 29, for participants who are not presenting.
The detailed program will be set up as soon as possible after the October 22 deadline. The general time frame for the conference starts on November 23 at 09:00 and ends on November 25 at 15:00.
Call for Papers (Closed)
Due to requests from several contributors, the deadline has been extended by a month.
The theme of the 2023 conference will have a focus on how language plays a role in communication between cultures. We welcome papers on topics including, but by no means limited to:
The role of language in intercultural communication
Intercultural communication in digital space
Intercultural communication in workplace/education
Research methods in intercultural communication
Multimodal intercultural communication
Plurilingualism and pluricultural competence
Language policy
Language and identity
Literatures of migration and diaspora
Translation of culture
Intercultural mediation and reception of narratives
Intercultural understanding through narratives
In addition to the suggested topics above, papers on any topics concerned with intercultural communication are welcome. It is our aim that, besides the main focus on language, a substantial part of the conference should reflect other aspects of the field of intercultural studies in general.
Contributions by senior as well as young scholars, doctoral students as well as practitioners, which can offer new insights into the various aspects of cultural encounters, are very much encouraged.
We invite proposals of individual papers as well as of pre-organized panels. All presentations should be in English and should be offered face to face. (No online alternatives are planned.) Note that all personal information will be removed before the peer-review, so authors should ensure that their names are not mentioned in the abstracts.
Individual papers
Individual papers will be organized in sections of 90 minutes, including three papers. Each paper will receive 20 minutes for presentation and 10 minutes for discussion. The proposal should be submitted in a single Word document and should include:
The title of the paper.
Name, email address, and affiliation (if applicable) of the author/authors.
An abstract of fewer than 350 words.
Complete panels
A panel should consist of three or four papers and should be led by a discussant. Each paper should be offered 15-20 minutes and the panel should be planned to have sufficient time for discussion. Typically, a panel section will receive 90 minutes, but if more time is needed, this should be specified in the proposal. The proposal for the whole panel should be submitted by the main contact person for the panel. It should be written in a single Word document and should include:
The title of the panel.
The names of the participants and the discussant, their email addresses, and affiliations.
A short abstract for the whole panel of fewer than 250 words, and abstracts for each of the included papers, each of fewer than 350 words.
Submission
Please send proposals to: nic2023@du.se, with the subject line: NIC 2023 Proposal. The deadline for submission is extended to September 24, 2023.
Keynote Speakers
Andreas Larsson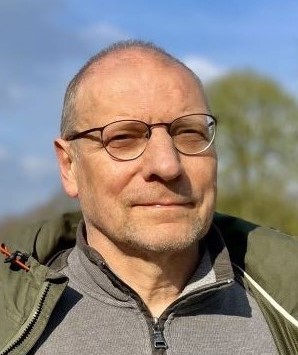 Andreas Larsson was born in Sweden in 1961, from a German mother and a Swedish father. He grew up bilingual. He attended school in Sweden, but moved to Kiel, Germany, in 1982. There, he studied Slavonic languages, Romance languages and History of Art. In 1992, he graduated with a PhD about Nikolai Gogol.
When Sweden joined the EU in 1995, he took the entrance competitions for officials at the European Commission and started as a translator in the Swedish language department, in Brussels. He eventually became Head of Unit, and from 2017 until his retirement in June 2023 he was Head of the Swedish language department in the Translation service of European Commission.
Keynote:
The European Union as a multilingual and intercultural cooperation project
Often reviled as a technocratic bureaucracy far from the everyday lives of ordinary people, the European union was born as a peace project from a highly idealistic dream about intercultural cooperation on a war-torn continent. Today's ever-closer union continues to create a framework where Member states must listen to each other, understand each other's standpoint, and find compromises to make use of the combined weight of 500 Million Europeans in the global arena. The often byzantine processes of finding consensus serve to make sure that all voices are heard, that no group and no country feels slighted by the other players. At the same time, the EU cooperation offers countless possibilities for the individual citizen and for countries to learn about each other and experience unity in diversity, as the EU slogan will have it.
At the core of this project is the concept of multilingualism, enshrined in the very first Regulation adopted by the then European Communities in 1958.
Andreas Larsson has worked in the EU translation context for 28 years and led his language department in the European Commission for the last six years. He will try to present this unique experiment as a counterweight to the popular view of Brussels as a Moloch set on globalising and homogenising everything.
Yvonne Lindqvist
Yvonne Lindqvist is Professor in Translation Studies at the Institute for Interpreting and Translation Studies, Department of Swedish and Multilingualism Stockholm University. She works mainly within the framework of Descriptive Translation Studies and the Sociology of Translation. During recent years she has become interested in World Literature Studies and her latest publications investigate the benefits of mixing the focus on the literary agents or intermediaries of the Sociology of Translation and the different forms of "distant reading" and literary circulation of World Literature Studies. For 6 years –from 2016 – 2021– she was a member of the research program World Literatures: Cosmopolitan and Vernacular Dynamics [http://worldlit.se] within which she worked with a project examining contemporary French, Spanish and English Caribbean literature in Swedish translation. Among her latest publicatins are:
Chatarina Edfeldt, Erik Falk, Andreas Hedberg, Yvonne Lindqvist, Cecilia Schwartz & Paul Tenngart. 2022. Northern Crossings. Translation, Circulation and the Literary Semi-Periphery. Bloomsbury Academic: New York & London. https://www.diva-portal.org/smash/get/diva2:1621726/FULLTEXT01.pdf
Lindqvist, Yvonne. 2021. "Institutional Consecration of 15 Swedish Translators – "Star translators" or not?". Literary Translator Studies. (eds. Klaus Kaindl, Waltraud Kolb & Daniela Schlager). Amsterdam & New York: Benjamin Publishing. 137-154.
Lindqvist, Yvonne. 2019. Translation Bibliomigration. The case of French Caribbean Literature in Sweden. Meta. International Journal for Translation Studies. 64 (3), 600–630. https://www.erudit.org/fr/revues/meta/2019-v64-n3-meta05400/1070531ar/
Keynote:
Global Translation History, Bibliomigrancy and Consecration Cultures – Translation Flows in the World Republic of Letters
In this talk, departing from my previous research on contemporary Caribbean literature in Swedish translation, I will explore if and how the notions bibliomigrancy (Mani 2016) and consecration cultures (Lindqvist 2018a; 2018b; 2019) can in some way contribute to the discussion within the relatively new research field Global Translation History. The exploration will draw on the five fundamental and interconnected concepts of Global Translation History proposed by Roig Sanz and Rotger's (2022; 2022a; 2022b): time, space, scale, connectivity, and agency.
Lindqvist, Yvonne. (2018a): "Translation Bibliomigrancy: The Case of Contemporary Caribbean Literature in Scandinavia". (eds.) Stefan Helgesson, , Yvonne Lindqvist, and Helena Wulff. World Literatures: Exploring the Cosmopolitan-Vernacular Exchange. Stockholm: Stockholm University Press. 295–309.
LINDQVIST, Yvonne. (2018b): Bibliomigration från periferi till semi-periferi – Om den samtida spanskkaribiska litteraturen i svensk översättning, Tidskrift för litteraturvetenskap (TFL). (Bibliomigration from Periphery to Semi-periphery – On the Contemporary Spannish Caribbean literature in Swedish translation.). Vol 48. No 1–2. Göteborg. Göteborgs universitet. 90–104.
LINDQVIST, Yvonne. (2019a): Translation Bibliomigration. The case of French Caribbean Literature in Sweden. Meta. International Journal for Translation Studies. 64 (3), 600–630.
Mani, B. Venkat. (2016): Recoding World Literature: Libraries, Print Culture, and Germany's Pact with Books. New York: Fordham University Press.
ROIG-SANZ, Diana. (2022): Global translation history. Some theoretical and methodological insights. Translation in Society, 1:2. 131–156.
ROIG-SANZ, Diana. Neus, Rotger. (2022a): Global Literary Studies: Key Concepts. Berlin/Boston: De Gruyter.
ROIG-SANZ, Diana. Neus, Rotger. (2022b): "Global Literary Studies Through Concepts: Towards the Institutionalisation of an Emerging Field." In Global Literary Studies: Key Concepts, edited by Diana Roig-Sanz and Neus Rotger, 1–35. Berlin: De Gruyter.
Elina Moriya
Elina Moriya is a Finnish and Japanese artist, photographer and visual researcher working with photography, video and installation. She spent her early years in Japan, grew up in Finland and has also lived in multiple other countries. She has always seen the creative process as a journey of questions, where the accent is put on the one who asks the questions, why and from which perspective.
Elina's practice incorporates multiple disciplines and blurs the boundaries between conceptual and documentary photography, a fine art and professional practice. Often researching the elements guiding perception and interpretations, assumptions that might seem self-evident, are challenged and manifested via unfamiliar visual outcomes. She is interested in encounters where various narratives overlap and integrate, resulting in the merging of new entities, and finding translations enabling dialogues with alternative paradigms. By presenting unexpected combinations of visuals, values or symbols, she likes to play with alternative realisations or explanations in the diversity of the values that might exist. This questions the predominant representations and what is accepted as a recognisable narrative, acknowledged visuals, appropriate aesthetics or correct paradigm.
Homepage: https://www.emoriya.com/
Anita Thomas
Anita Thomas is a professor of French as a foreign language at the Department of Multilingualism and Foreign Language Didactics at the University of Fribourg (Switzerland). Her research interests include second language acquisition and foreign language teaching. She is particularly interested in the linguistic characteristics of French as input to the learners and in the use of authentic material in the language classroom. She teaches at Bachelor and Master levels, including teacher training for the lower secondary level.
Keynote:
Pardon my (Swiss-)French ! Linguistic and cultural variation in the teaching of French as a foreign language in Switzerland
French is one of the national languages in Switzerland and is the official language in the francophone part of the country (Suisse romande). The Swiss variant of French presents specific linguistic characteristics, especially on the lexical (Thibault & Knecht, 2012) and phonological level (e.g. Schwab & Racine, 2013), but remains very close to the standard, as other regional variants of French in Europe.
French is also one of the foreign languages taught at compulsory school in the German- and Italian-speaking parts, alongside English. But which French? A study conducted with learners of French at upper secondary school showed that there is a general preference for the French spoken in France (Paternostro, 2016). This preference is confirmed by informal discussions with future teachers of French as a foreign language at the bilingual university of Fribourg. Many of them are not even aware of the fact that there is a Swiss-French variant of French. This leads to the question of the presence of the French-speaking part of Switzerland in the textbooks for the teaching of French as a foreign language in the German-speaking part of Switzerland.
To answer this question, I will present two studies that have examined textbooks used in lower secondary school. In the first study we tracked the traces of the Swiss French variants in three textbooks (Lafine & Thomas, 2020). The second examined the characters present in two recent textbooks with a particular focus on how the French speaking characters were represented (Lafine, 2021). The results show that French linguistic variation is hardly an issue and that typical Swiss-French characteristics are presented marginally. The regional lexicon seems to mainly reinforce the knowledge of the cultural aspects of the French-speaking Switzerland and to highlight the cultural proximity between the regions. The analysis of the characters points to the same direction. Rather than emphasizing the "other", as is often done, the textbooks try to integrate the "same" and the "other". For example, by creating a character of a Swiss-German person learning French in a French-speaking city (Lausanne), it seems that one of the textbooks wants to show that the "other" is like the learner.
All in all, although the French-speaking Switzerland is present at the cultural and lexical level in the textbooks, their processing is mainly implicit. This could be related to the fact that the question of the same and other is a sensitive issue for teachers and learners of a foreign language that is an official language in the same country. Another reason could be that little theoretical and pedagogical support is provided to teachers to discuss the specificities of the French-speaking Switzerland compared to other regions of the French-speaking world.
Lafine, J. (2021). Les personnages des manuels de FLE de l'école obligatoire en Suisse alémanique [Master Thesis]. Université de Fribourg (CH).
Lafine, J., & Thomas, A. (2020). La Suisse romande dans les manuels de FLE à l'école obligatoire en Suisse alémanique. Babylonia, 1/2020, 34–43.
Paternostro, R. (2016). Enseigner les langues dans des contextes plurilingues: Réflexions socio-didactiques sur le français en Suisse italienne. SHS Web of Conferences, 27, 07012. https://doi.org/10.1051/shsconf/20162707012
Schwab, S., & Racine, I. (2013). Le débit lent des Suisses romands: Mythe ou réalité? Journal of French Language Studies, 23(2), 281–295. https://doi.org/10.1017/S095926951200021X
Thibault, A., & Knecht, P. (2012). Dictionnaire suisse romand: Particularités lexicales du français contemporain (Nouvelle édition revue et augmentée préparée par Pierre Knecht). Zoé.
Timeline
February 2023 - Call for papers published.
May 2023 - Keynote speakers confirmed.
August 20, 2023 - Deadline for submitting proposals.
End of September 2023 - Results of the peer-review are communicated.
October, 2023 - Registration. (Deadline for presenters October 22; deadline for other participants October 29.)
End of October/Early November 2023 - Final program.
November 23-25, 2023 - The conference takes place.
Members of the Conference Committee
Herbert Jonsson, associate professor of Japanese
Mariya Aida Niendorf, assistant professor of Japanese
Mattias Aronsson, associate professor of French
Lovisa Berg, assistant professor of Arabic
Chatarina Edfeldt, assistant professor of Portuguese
Hiroko Inose, assistant professor of Japanese
Irina Karlsohn, assistant professor of Russian
André Leblanc, assistant professor of French
Practical Information
Venue
The conference will take place in the main building called "Hyttan" at campus Lugnet in Falun (Google Maps). You find information about the campus area and a map of the building here at the Contact and Visit Us webpage.
WiFi
In the university's buildings, the Internet can be accessed through Eduroam.
Accomodation
Most visitors coming to the university stay at Scandic Lugnet Falun. This hotel is situated in the very vicinity of the university. It is slightly more expensive than other hotels in the city.
The three remaining hotels in the city are all situated close to the train station. From there, it is about 20 minutes' walk uphill to the university campus. These hotels are:
In addition, a few cheaper bed-and-breakfast options may also be available.
Travel
By train, you can go directly to Falun from Stockholm Arlanda Airport. The trains depart from Arlanda SkyCity. It takes slightly more than two hours with a direct connection. Train tickets are booked at sj.se.
Several buses are available from central Falun to the university. From the train station, you can take the bus 153, direction Lugnet, and go off at the bus stop Högskolan Svärdsjögatan. From the central bus terminal, a few minutes' walk from the train station, most buses going northward stop at Manhemsvägen, a bus stop very close to the university. Timetables and other information (unfortunately mostly in Swedish) are available at dalatrafik.se. Tickets can be paid in the bus with credit cards, or in the bus company's smartphone app. Cash payments are not accepted.
By car, Falun can be reached via the E16 road, which connects westward to Oslo and eastward to Gävle, from where the E4 road connects to northern and southern Sweden. Oslo can be reached in less than six hours and Stockholm in about three hours. The E16 road passes in front of the university campus.
Money
Although a member of the EU, Sweden's official currency is still SEK (Swedish krona). Common credit and bank cards are accepted for most payments. Cash is almost never used.