Background
By the summer of 2024, the new university campus in central Borlänge will be ready to move into. In the meantime, the Municipality of Borlänge needs access to the current university campus from the summer of 2023 for renovation purposes. This is why the University now needs to vacate sections of the current campus before the new Campus Borlänge is ready for use.
Questions and Answers
This list is updated on a regular basis. Last updated 2023-04-20.
How will the move affect me as a student?
The ambition is that the move will not affect students' learning and study environment to any great extent. The University will continue to have access to virtually all classrooms on the current campus as well as the library. Dalarna's Student Union will continue to work from its current office.
The biggest change for students will be the fact that some classes will be held in a temporary pavilion. The two-level pavilion will be located directly outside the main entrance to the old campus and will extend towards the area that currently houses Komvux. The rooms in the pavilion will fully replace those that need to be vacated: network labs, computer rooms, and classrooms.
Important areas of the University, such as "the Black Box" and specific labs, will remain fully accessible.
Which premises can the University retain the use of until the new Campus Borlänge has been completed?
The University will retain the use of most classrooms, the library, labs and reception, as well as the building known as "the Black Box"; however, offices need to be vacated.
Can I still access the computer rooms?
Yes, you can still access and use the computer rooms in the main campus building. And after the summer also in the pavilion.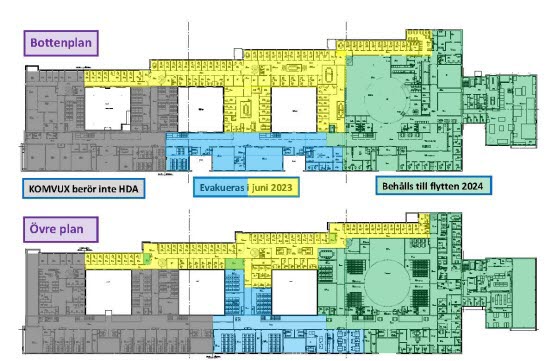 How can I meet my teachers outside class time if I have questions about my studies?
Most teachers will have temporary offices in the building called "Hus 26", which is located about 300 metres from the current campus. Students are welcome to visit them there. Remember that you can always contact your teachers by, for example, email.
Student services will continue to work from the current campus, meaning you will still be able to find the offices of, for example, study administrators and study and career counsellors there.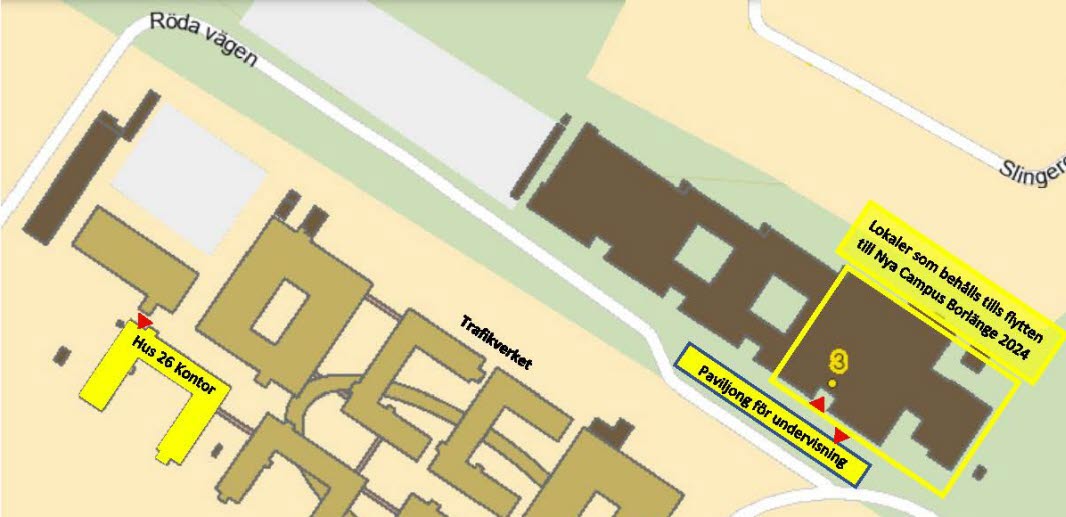 What about the risk of noise during construction?
Whenever there is construction work, there is a risk of noise. The extent of this noise is currently impossible to predict, but the hope is that there will be little effect on university activities and operations. Much of the work will be carried out during times when students are not on site.
When can the University move to the new Campus Borlänge?
At the start of the autumn 2024 semester, the new Campus Borlänge will open its doors to students.