There are two parts to your registration process: one, you need to register as a student at the university and two, you need to register online for each individual course. The information below explains this two-step process.
1. Register as a Student
The following information applies to international students who are NOT registered (folkbokförd) as residents in Sweden.
You can register online before your arrival as soon as you have been admitted to our courses and received your Notification of Selection.
Register Online as a Student
First, order a "Key" by emailing support@du.se. Copy and paste this sentence into your email: "I am a new international student and would like a key (nyckel)". Include your name and date of birth. You will receive a response by email.
This online registration will give you some access, but not full access, to our online facilities.
Identification Upon Arrival
Upon arrival on campus, go to the Help Desk (located at the reception desk on both campuses). Present ID (your passport) so that you can get a key card: after this you will have full access to all student facilities and services.
2. Register Online for Each Individual Course
Follow these steps to register in a course (at the earliest, two weeks prior to course start):
To register you first need to create an electronic identity (above).
When you have an electronic identity you can register via the Ladok Student interface http://www.student.ladok.se: you will see the screen below - select Dalarna University.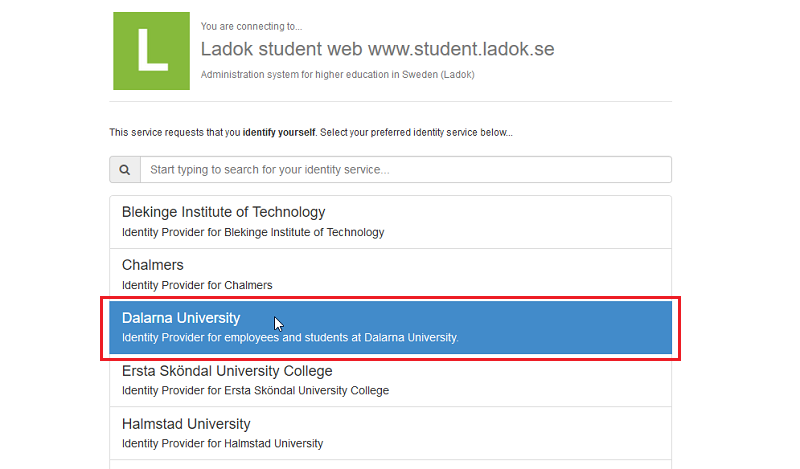 You will now see which courses you are registered in: it can take up to 12 hours for all your courses to appear in the University's online learning platform (Learn).
Problems?
If you experience problems with the above, contact support.
Roll-Call (Call for Participation)
To maintain your place, you must attend the roll-call (also called call for participation) for your programme/course(s). This is when your name is read out by the teacher and you confirm your place in the course. Often, this happens on the first day of your course and can take place either online or on campus, depending on whether your course is onlne or on campus.
If you cannot attend the roll-call, you must notify administration ahead of time by emailing support@du.se. If you do not do so, you will lose your place.
Decline Place in Course
If you do not want to retain your place in a course and have not yet registered for it, decline the place in your account on universityadmissions.se.
If you have registered for a course but no longer want to take it, decline the place on http://www.student.ladok.se.
Contact
support@du.se
023-77 88 88
Last update: